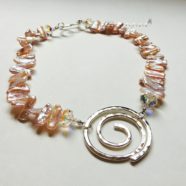 Ho Ho Ho – Jewelry always fits!
Temptations will abound at our Christmas Party and Sale this year!  Join us to celebrate the and imbibe in the bubbly of the season.  Our New York City supplier will be in with many special pieces to make your holiday extra special!
Saturday, December 10
10 am – 5/6 pm
Enjoy 25% off selected fine jewelry stock on this day!  Kristina Marie Designs is offering a gift with $75 or more purchase of a beautiful classic pair of Swarovski Crystal and sterling silver earrings ($25 value, one per customer).
———-
Thank you all my wonderful friends and customers for your love and support all year round and for allowing me the opportunity to take part in your special life events! I am looking forward to imagining new and exciting designs as I continue my studies through the Gemological Institute of America (GIA), and I hope you will remember my small business as your children and grandchildren are investing in jewelry for their life events.
As you celebrate the season I wish for you to give time and treasure to the charity of your choice, eat at locally owned restaurants, support small grocers, artists and retailers in your community.  Shopping small does not necessarily mean you pay more, it just helps keep local dollars local, and that helps us all!
Merry Christmas!
Tina