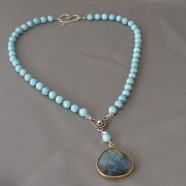 Come join me at Two Sisters Fine Jewelry in Manette on Saturday, March 26, noon – 3 as I reveal new work to inspire sunshine into the darkest of Days!
Inspiration
I think Winter of 2015-2016 has done most of us in for the rain category, is it over yet?  The sunshine re-energizes both my soul and my creativity, and sometimes I have to look to the beautiful objects of my jewelry world to spark that sunshine when our sun is obscured by layer upon layer of rainclouds. 
This spring line was just the sunshine I needed this year, turquoise in blue seldom seen is the center point of many of my new designs.  Long necklaces, not unlike prayer beads to pray for the actual sun, but also shorten for when open collars are again the norm.  Labradorite remains popular in fashion jewelry and continues as a favorite design element of mine.  Ralph Waldo Emerson wrote, "A (human) is like a bit of labrador spar, which has no luster as you turn it in your hand until you come to a particular angle; then it shows deep and beautiful colors."  This special effect is called Labradorescence, and is caused by light interacting with thin layers within the stone. 
I hope you will find a special piece of sunshine amongst these original pieces that will help your own deep and beautiful colors shine more brightly.
Tina