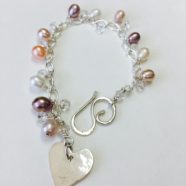 Wondering where I am?  I'm wondering most of the time too!  Still somewhat distracted by a condo remodel I'm shuttling between the boat on Lake Union and our wonderful friends and family who let us "camp" with them.  It's been a busy year and I'm not there yet!
In the meantime, there are a couple dates to put on your calendar!
Valentines Day is next Wednesday so stop by and find just the right zero-calorie, always fits piece of jewelry for that someone special in your life!
Spring Line Launch (yes, I'm still having creative ideas!)
Saturday, March 24, 2018
10 a.m. – 5 p.m.
Two Sisters Fine Jewelry in Manette
1100 Wheaton Way, Suite E
Bremerton, WA 98310