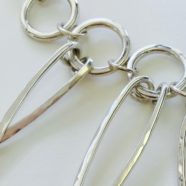 The chill has hit the air and it's finally under 85 degrees in my studio!  Giving you just a small peek as I work feverishly to complete my Fall collection.  Join me on Sept. 17 as I debut my Fall Line, including a generous collection of one-of-a-kind new pieces, allowing some of our favorite flavors of summer to invade fall.  Bold metals, stunning pearls and warm gold fill accents take center stage as we take this next season by storm!  Here are the details!
Saturday, September 17
10 am – 5 pm
Two Sisters Fine Jewelry in Manette
1100 Wheaton Way, Suite E
Bremerton, WA 98310
Join us for mimosas, my new fall line, friends and some other exciting debuts on this special day!
RSVP here or text or call 360.710.5646.
Also, bring those cherished broken pieces of jewelry languishing in your jewelry box as our fabulous bench jeweler, Rick will be on hand for any jewelry repairs and cleanings while you wait!  Rick available Noon – 4.
Upcoming Events for Kristina Marie Designs:
Friday, October 7, 5-8 pm – special collection at The Lisa Stirrett Glass Art Studio
Saturday, October 8, time TBA – special collection Trunk show in Seattle
Saturday, December 10, 10 am – TBA – the annual Two Sisters Fine Jewelry Christmas Party and sale!