Christmas in July Party & Sale!
Wednesday, July 12
10 am – 7 pm
Christmas is a long way off but the elves are still working away!  Our New York designer will be in town and our fabulous bench jeweler, Rick will be in to make sure your new piece fits just right.  Nibbles and libations and open till 7!
Two Sisters Fine Jewelry in Manette
1100 Wheaton Way, Suite E
Bremerton, WA 98310
***Tina will be in-store most Wednesdays until 2:30 and Thursdays until 3:30, please text or email for an appointment***
That's the promo… for more of the doings of Team Bright, read on…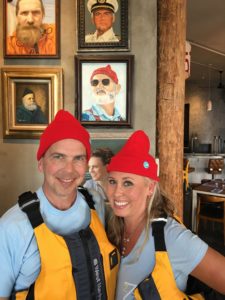 TEAM ZIZZOU – SEATTLE OFFICE
They say change is the only constant in this life, and some big changes are truly on deck!  The kiddos are grown and off conquering the world so Don and I, looking to downsize, made an offer on a condo in Bremerton in January.  Long story short, after making plans to move, the deal fell through until later in the summer.
Our 36 foot trawler has been moored on Lake Union in Seattle for a year and a half.  It took literally months of work, but we put our life in storage and moved onto the boat for the summer!  Going from 2400 sq. ft. to about 250 is an adjustment by anyone's measure, but that's what we're doing.
This little hiatus in Seattle is also easing the transition for Don as he leaves private practice in Bremerton after 17 years to serve our veterans at the VA Hospital in Seattle and American Lake.  My studio, for the first time in my career, is not where I live but located at the store.  I have some early mornings ahead to reserve creative time before the store opens, but I'm enjoying the new rhythm of life and know these changes will spark some fresh ideas!
I continue my studies with GIA on board our vessel as I feel the gentle waves of Lake Union and listen to the seaplanes take off and land.  We will be part time residents of Bremerton again soon, hopefully before Christmas!
Cheers,
Tina