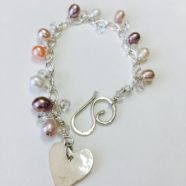 Kristina Marie Designs Fall Line Launch Event and Reveal
Saturday, September 9, 2017
10 am – 5 pm
Libations and nibbles will be served!
Frequent gentle rocking and the seemingly constant roar of seaplane engines have been the backdrop of my imaginings as I somewhat reluctantly look toward Fall. I'll miss the hot summer nights but also secretly love the crisp Fall air. Floating aboard Lake Union I've loved creating a look for Fall that incorporates the vibrant metallic hues of freshwater pearls, luminous Australian Moonstone and the industrial statement utilizing oxidized sterling silver, black diamonds and 18k yellow gold. Fall is that time we leave the lazy days of summer and revive our industrious nature. Join me as I debut my Fall Line and take you into the season ready to conquer!
Also at this event, see some of our bench jeweler Rick's new work in anticlastic raising!